New Construction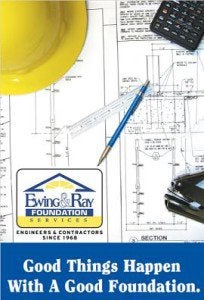 How would you like to construct your next building and not have to worry about foundation problems again? You can by using the Engineered Helical Foundation System.
The Helical Foundation System is designed to penetrate below the expansive soils active zone into the un-weathered stable soils. This depth is crucial for a long term, structurally sound foundation.
This patented deep foundation system is building code approved and has had extensive load testing (ASTM D1143). The helical pier system uses a torque/load capacity relationship to determine the in place load capacities. This relationship has been proven, through the millions of helicals installed nationally since 1950.
So, before you add on that addition or start your next new foundation, please allow our staff of professional Engineers and ACI Certified Technicians to assist you in your next commercial or residential project.
Our new construction foundation is an "Engineered Helical Foundation System" which combines the best of the helical and sound foundation construction to provide a Super Foundation System for either slab or conventional structures. It is a practical solution for a deep supported foundation designed for executive custom homes and commercial applications.
Pile Caps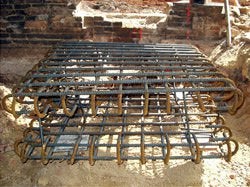 Pile Caps are thick, concrete mats that are generally used evenly among the recently installed Helical Piers to distribute the heavy loads of large, multi-story buildings.
Drilled Piles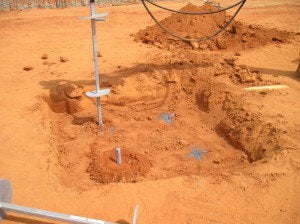 Ewing & Ray Foundation Services, Inc. is proud to offer a full professional spectrum to the contractor for new home construction, additions and foundation repair. Our Engineered Helical Foundation System offers the contractor or home owner an opportunity to secure the peace of mind for his client that their home will last a lifetime.
Special Concrete Work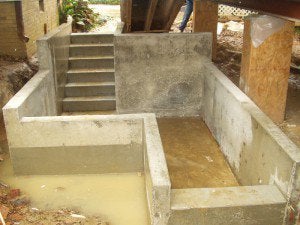 Sometimes special concrete work needs to be done in order to protect a building from water or drainage problems that may result in future foundation problems.
There are two general types of foundations, Slab on Grade and Conventional.
1) Slab on Grade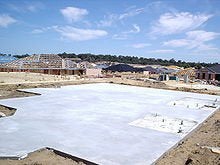 A Slab on Grade foundation is one in which they use gravel, wire mesh, reinforcing rods, rebar, and footings, and then pour the concrete on top. As the name indicates, the foundation is sitting directly on the ground.
2) Conventional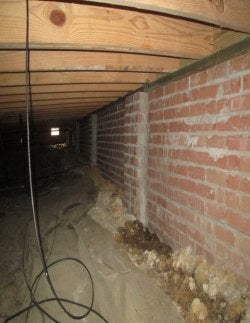 A Conventional foundation is one that is open underneath and held off the ground by some sort of piers, which typically are concrete and/or brick.